BGAN Hardened Ready Cases
BGAN Ready Cases are an excellent way to transport BGAN terminals because they are watertight, airtight, dust proof, crush proof and the foam core padding keeps equipment safe from falling shock, extreme environments or just long term storage. Each case includes everything required for broadband satellite Internet and phone communication. Our Ready Cases are favored by professionals, first responders, and government agencies that require a mobile office in most any environment. Ready Cases provide valuable Internet and phone communication where none exists.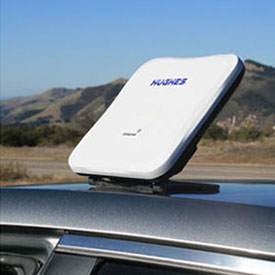 Hughes 9202M
Ground Control offers Ready Cases for All BGAN terminals, however the Hughes 9202M is popular because is it one-button easy for connecting and creating a Wi-Fi satellite Internet hotspot. The integrated 802.11 WiFi access point will work with any in-range wireless device. The 9202M also provides voice communication via the included analog phone that ships with any Ready Case. Finally, with all of these great features, the 9202M is 94.3% as fast as the fastest BGAN terminals, yet it's one of the smallest and lightest.
Hughes 9202M BGAN Terminal
BGAN Ready Cases - Instant, Portable, Global Office
There is no price difference between a small, medium or large Ready Case for your preferred BGAN terminal. The large case is available in six colors, the medium case in black and tan, and the small case only comes in black. Exterior case sizes large = 24.3" x 19.5" x 8.7", medium = 21.5" x 17.25" x 4.8", small = 16.7" x 13.1" x 4.4"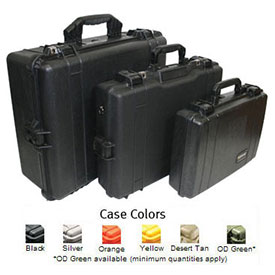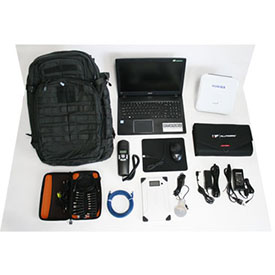 BGAN Rucksack Bug-Out Pack
Ground Control offers a build-a-backpack solution for any BGAN terminal. Shown is a Hughes 9202M that includes an optimized laptop with wired mouse, an 80 watt solar panel, a solar-panel rechargeable external battery with LED lamp, an analog phone, and all cabling to recharge the laptop and BGAN as well as many other devices... This backpack can maintain off-grid phone and Internet connectivity indefinitely.
Small Hardened Case with BGAN Terminal
Case Size - 16.68"L x 13.06"W x 4.37"D The small hardened BGAN case is ideal for the Explorer 510 or Hughes 9202M. Its compact size and anti-tampering locks make it our most popular case. It however does not have room for extra batteries or a laptop which is better suited to the medium sized case. Shown here is the Explorer 510 BGAN terminal with charging equipment.
Explorer 510 BGAN Terminal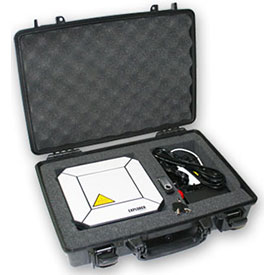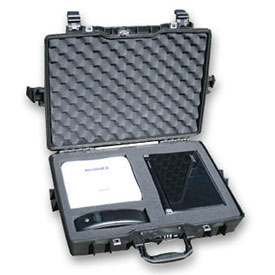 Medium Hardened Case with BGAN Terminal
Case Size - 21.50"L x 17.25"W x 4.80"D Our medium case was designed to include both a BGAN terminal and added accessories such a netbook or laptop and/or an extra battery. This sleek hardened case includes a combination lock under the handle. Shown here is the included analog phone with the Hughes 9202M terminal.
Hughes 9202M BGAN Terminal
Large Hardened Case with BGAN Terminal
Case Size - 24.3"L x 19.5"W x 8.7"D The larger case is for ANY BGAN terminal and has space for a adding larger laptops (or two). This case has a second foam layer that can be customized for any added equipment.
Hughes 9211 BGAN Terminal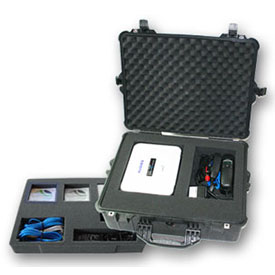 BGAN Ready Case Photos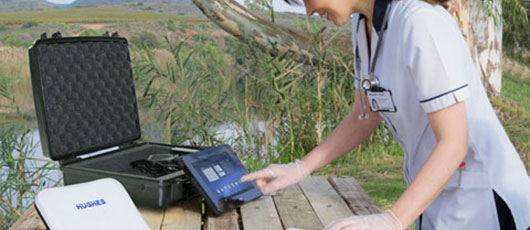 Equipment Protection
Small BGAN Case
The Ready Case keeps equipment protected from the shock of transportation into remote regions for global communication.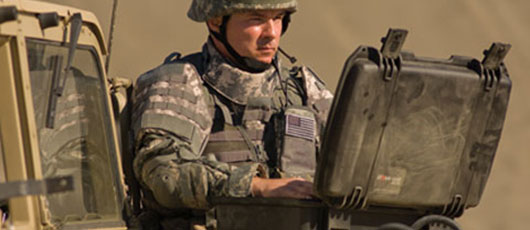 Dustproof
Medium BGAN Case
Ready Cases are used by command personnel for quick reliable communication in the worst of environments.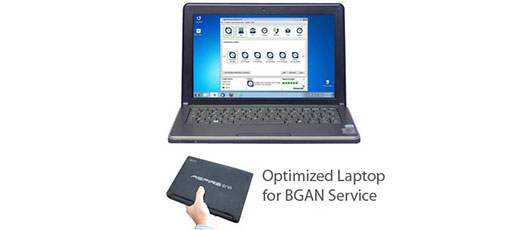 Netbook
BGAN Optimized Laptop
Our BGAN Optimized Laptop can reduce BGAN usage to a trickle. It is fully configured with Windows 7 for optimized connectivity to the Internet over the BGAN network. This netbook will fit in a medium sized case with the Hughes 9202 or Explorer 510 terminal.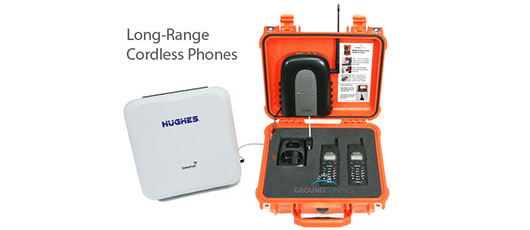 Durafon
Long-Range Cordless Phones
We offer all-weather long-range cordless phone(s) for BGAN terminals that have a phone jack (only the Explorer 510 does not have a jack). These cordless phones may connect up to 2 miles (3.2 km) or 12 floors/walls away from the BGAN terminal. Excellent for working indoors or outside at distance.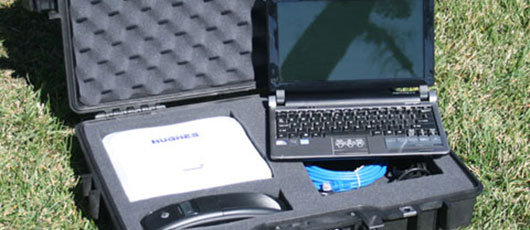 Hughes 9202
Small BGAN Case
The Hughes 9202 in a small Ready Case. The 9202 comes with an analog phone that plug into the phone jack of the side of the terminal. (The Explorer 510 does not have a phone jack and works with connected smartphones for phone connectivity).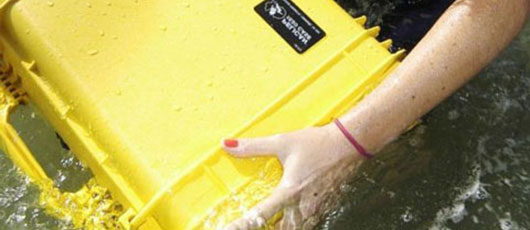 Watertight
IP67 Rated
Our hardened cases are IP67 rated, meaning they have been tested to be watertight (submerged up to 1 meter for 30 minutes) to protect your investment.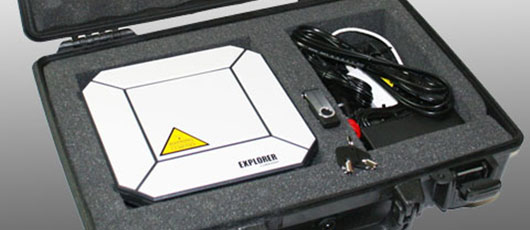 Explorer 510
Small BGAN Case
Here is an Explorer 510 in a small Ready Case. Ground Control offers a Quick-Case 510 solution that ships with 300 Megabytes of active service so it will work out of the box.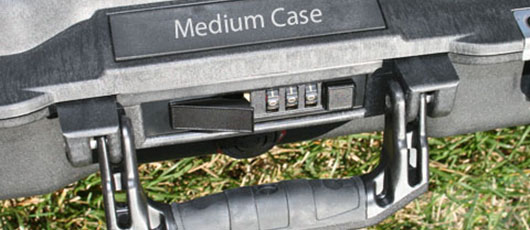 Combination Lock
Medium BGAN Case
The medium case uses a three dial combination lock.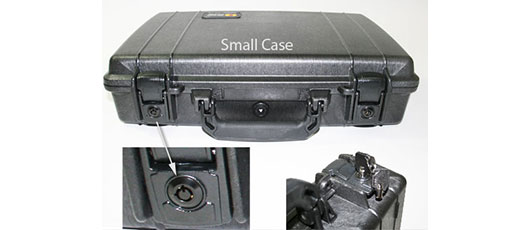 Secure Clamps
Small BGAN Case
The small case has two front clamps that are both lockable with a tubular type key (shown bottom right).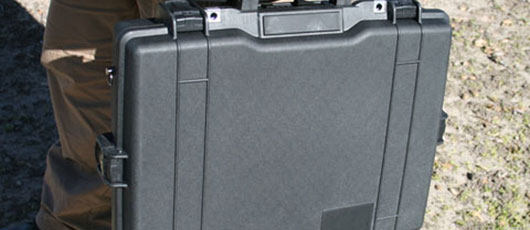 Add Accessories
Medium BGAN Case
The medium sized case is good if adding a small laptop, extra batteries, or other accessories.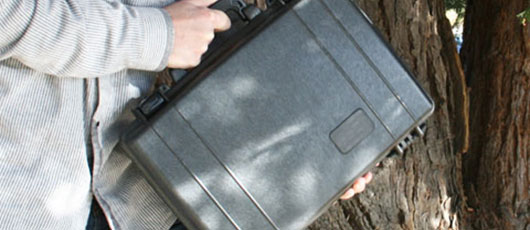 Portable
Small BGAN Case
The small BGAN case is very portable and is large enough to fit most class 1 and class 2 BGAN terminals with accessories.
The Explorer 300 being used by the Red Cross for the Haiti disaster