Real-time information from BGAN terminals in the field
Portal features include:
Usage totals in megabytes (updated every 10 minutes).
Current GPS location of any terminal on the world map (via Google Maps).
Wake-up or sleep any unmanned BGAN terminal.
Send SMS commands to any BGAN terminal.
Detailed log files of all activity, connectivity, usage, location.
The portal is not only beneficial for individual users but also for clients with multiple mobile and fixed-location BGAN terminals, such as the Hughes 9502. Since these remote terminals are typically unmanned, remote monitoring and control are often necessary.
The portal enables network operators to view the entire worldwide installed base from a single screen, providing real-time control over all equipment. The screen displays essential information such as each BGAN SIM card's ICCID, the terminal type (represented by an icon), the terminal's given name, the customer number, and the phone number assigned to that terminal.
Under the 'Data Sessions' tab, an '0' indicates an inactive data session, while '1' denotes an active data session. Any number greater than '1' displays additional data sessions from other devices connected to the terminal. The portal also shows the terminal's IP address and the date it was last online.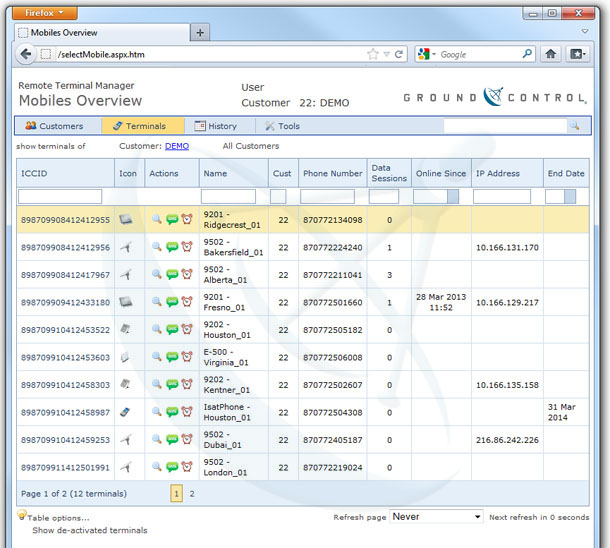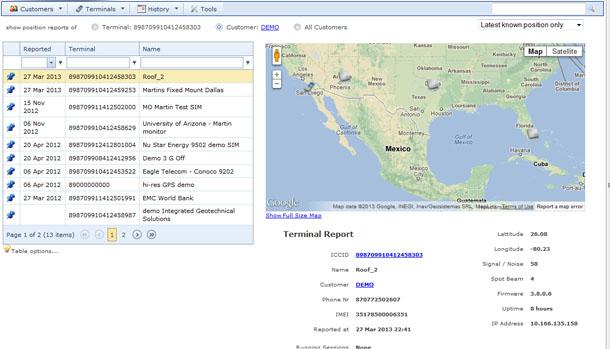 BGAN Terminal Details
Click on 'Get Location' and the portal will show the precise GPS of each of your terminals by superimposing a BGAN icon on the map as well details of that terminal. The left window shows the installed base and the right is for terminal details.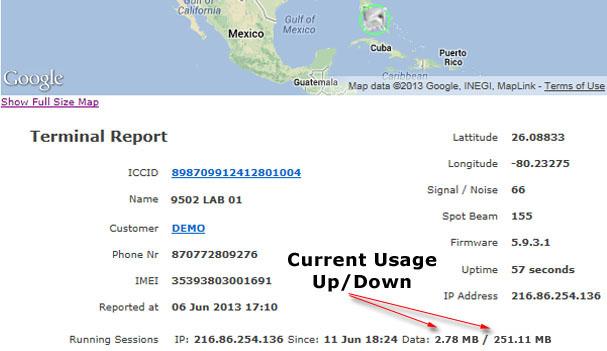 Detailed information about a BGAN terminal includes its GPS latitude and longitude, the signal quality of its BGAN connection (any value below 50 indicates instability), the specific spot-beam to which it is connected, the data session uptime, its IP address (whether it is dynamic or static), and the current amount of data transferred during the active data session, including both uploads and downloads.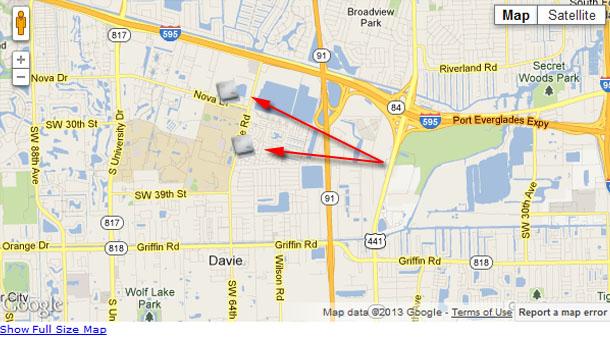 Google Maps is used to show two BGAN 9201 terminals at this Florida location. You may click on any terminal icon to bring up details of that terminal.
Wake-up and Disconnect Options
The BGAN Terminal Management Portal allows operators to send commands to a BGAN terminal, enabling them to either wake up or disconnect its data session as needed. The portal also provides the option to select the type of data session to open, such as a Standard IP or streaming session. To initiate the change, the operator can simply click on the 'Send' button, and the new configuration will be applied to the terminal.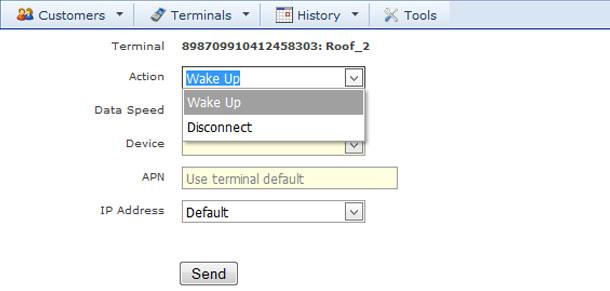 You also have the option of waking up devices connected to the BGAN terminal based on if they have a DHCP or static IP (or both).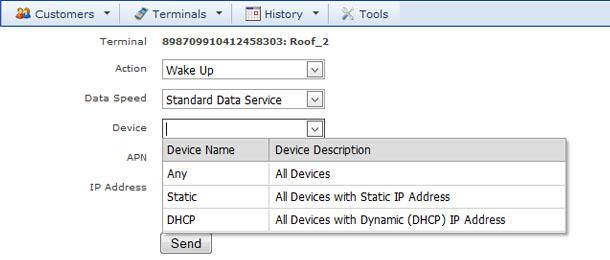 Action History Overview
Any action that's taken place for your installed base is recorded and shown on the history screen. You may drill down and select a single terminal for its independent history.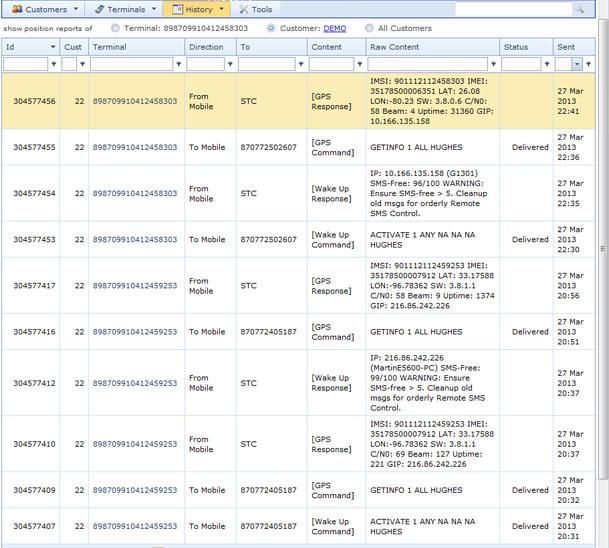 Historical Usage - System Control Messages
From the 'History' tab, select 'System Control Messages' to show a timeline usage of each session. This is insightful for understanding daily usage patters of BGAN terminals and calibrating them for the most efficient use of the network.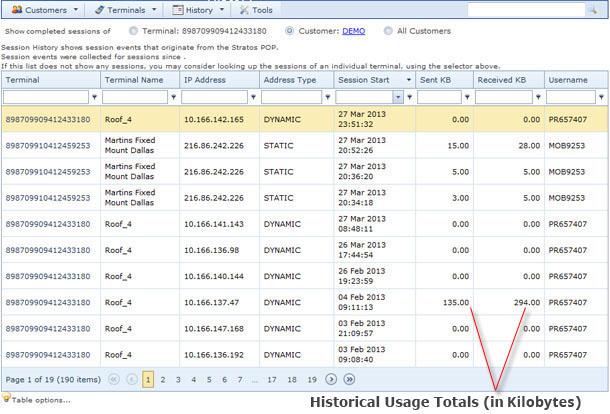 Other Management Functions
There are numerous other functions possible with our management solution, including:
Sending SMS message/command to the terminal. (The 9502 has numerous commands such as watchdog enable/disable, ping, PDP password settings, etc.) This SMS channel guarantees an SMS command is sent, while other providers may lose the message.
Get details on each terminal.
Wake-up or disconnect devices attached to your BGAN Terminal by 'All', 'DHCP' or 'Static.
Select a standard IP or select a streaming speed of 32, 64, 128, 256 and 384Kbps speeds.
(Useful for news organizations or others that require CIR on the data channel.)
Load firmware (Hughes 9502 and some other terminals).
Start a VNC session (virtual network computing).
Reboot the terminal.
Devices That Can Be Managed
Our management service can monitor all BGAN terminals and IsatPhones, including:
Security Considerations
For multi-unit orders, we recommend MPLS private routing. Many will test first using IPSec VPN to one of the Inmarsat satellite access stations in New York, Hawaii, Hong Kong, Italy, Amsterdam, or The Netherlands, and then switch over to MPLS for the duration. We can also issue a unique APN (access point name) that has no ingress to the internet for another layer of network security. More on BGAN M2M Network Security.
Would you like to know more?
If you have any inquiries regarding Ground Control's products or services or wish to learn more about IoT, critical communications, satellite and cellular connectivity, our team is here to help.

Please feel free to call or email us directly, or you can fill out the provided form, and we will contact you as soon as possible.