Reliability Above All®
Iridium's unique crosslinked mesh architecture offers a comprehensive web of coverage across the globe, covering every inch of the planet from its low-Earth orbit satellites. This network provides unparalleled low-latency, weather-resistant services that set it apart from any other satellite provider. No other network offers the same level of reach, coverage, and reliability as Iridium.
From satellite phones to broadband services, Iridium's communication solutions are trusted by over 1.5 million users worldwide, including mariners, pilots, humanitarians, first responders, and government organisations. Its robust network and dependable services make it a preferred choice for critical communication needs in even the most remote locations on Earth.
"In a world where global communications are increasingly essential, only one company connects everyone to the things that matter most, from pole to pole.
Iridium keeps people – and things – connected on the land, in the air, or at sea."
Short Burst Data Devices
SBD-enabled products are ideal for remote weather stations, ocean drifters and buoys, monitoring of oil pipelines, controlling and reporting on equipment in the middle of nowhere. For basic telemetry and command/control applications where mobile signals don't go, they're ideal.
See All SBD Devices
Iridium Certus 100 Devices
The Certus 100 service, is positioned between Iridium's Short Burst Data (SBD) service and the higher throughput of Certus 700. This service uses small and lightweight omni-directional antennas, which provide a robust and stable connection. With Certus 100, users can achieve IP data speeds of up to 88 Kbps, making it well-suited for applications requiring Supervisory Control and Data Acquisition (SCADA).
View All Certus 100 Devices
Iridium Certus 200 Devices
We're big fans of the Certus 200 service as a great all-rounder. Supporting internet speeds of 176 Kbps up and down, which is enough for basic internet use, and they come with voice, text and tracking capabilities. The two devices are very similar; the MissionLINK is designed for land mobile applications, and the VesseLINK for maritime.
See All Iridium Certus 200 Products
Iridium Certus 700 Devices
In early 2019 Iridium updated their entire constellation of 66 low-earth orbiting satellites that were placed in operational orbit in 1998. This much-needed 20 year technology upgrade was a game-changer and now Iridium satellites are delivering high-speed internet (up to 700 Kbps), push-to-talk, M2M, and aviation services that were not available… until now.
View All Certus 700 Devices
More About Iridium
Iridium's LEO (Low Earth Orbit) network operates at a distance of only 780 kilometers from the Earth, providing several advantages over traditional GEO (Geostationary Earth Orbit) satellites. The close proximity of Iridium's network enables pole-to-pole coverage, shorter transmission paths, stronger signals, lower latency, and shorter registration times.
Furthermore, each Iridium satellite is crosslinked with up to four others, forming a dynamic mesh network that routes traffic among satellites to ensure seamless global coverage even in areas where traditional networks are unavailable.
Iridium Coverage Map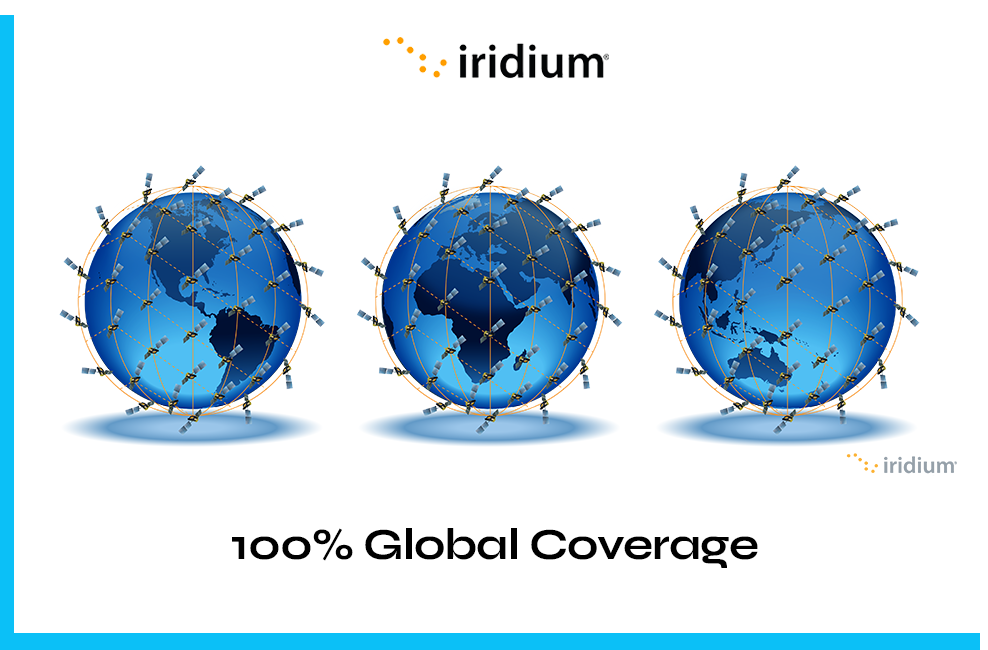 Iridium's ground infrastructure is made up of the Satellite Network Operating Center (SNOC), Ground Stations, and Technical Support Center, all interconnected through advanced fiber-optic and broadband satellite links. Together, they provide terrestrial connections for mobile satellite voice and data, network command, control, and monitoring, and technical support.
In early 2019, Iridium completed a multi-year constellation upgrade, which involved replacing all of its first-generation satellites and upgrading the supporting ground infrastructure. This new network has resulted in faster, more reliable service across global markets for maritime, aviation, land, and government applications. The original Iridium constellation completed approximately 100,000 orbits of Earth before being sustainably de-orbited as part of the replacement program.
Do you need any help?
If you're not sure which airtime service or device is best for your requirements, please email or call us, or complete the form.

We have been working with Iridium as gold-tier partners since 2005, and our customer use cases range from polar exploration to prescription-delivering drones, so we're well placed to provide you with expert advice.